Work: The Grand Cure: How changing the way Britain works will be good for our health
Health inequalities are an issue of central importance to every government department; you can't build a strong economy or a healthy society by parking health inequalities as an issue on the fringes of government. By Howard Stoate and Bryan Jones September 2010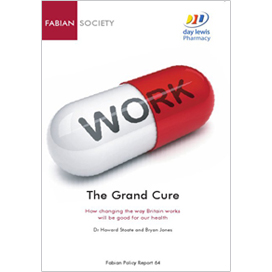 Work: The Grand Cure
1 September 2010
Health inequalities are an issue of central importance to every government department; you can't build a strong economy or a healthy society by parking health inequalities as an issue on the fringes of government.
In 'Work, the Grand Cure' Howard Stoate and Bryan Jones argue that the question of whether the new Government engages in any meaningful way with Sir Michael Marmot's recommendations on health inequality – and on the health effects of good work in particular – will be a litmus test showing whether the Liberal-Conservatives are really serious about inequality and social justice.
---
You can buy a printed copy edition of Work, the Grand Cure for £11.95, plus £1 p+p, by phoning the Fabian Society bookshop on 020 7227 4900, emailing us at bookshop@fabian-society.org.uk or send a cheque payable to "The Fabian Society" to 11 Dartmouth Street, London, SW1H 9BN.
You can receive this publication free if you join the Fabian Society today. Once you become a member, you'll receive two free pamphlets immediately and will get a copy of the Fabian Review magazine and our latest pamphlet every quarter. Click here to find out more about joining the Fabian Society.
Download

now
Fabian membership
Join the Fabian Society today and help shape the future of the left
You'll receive the quarterly Fabian Review and at least four reports or pamphlets each year sent to your door
Be a part of the debate at Fabian conferences and events and join one of our network of local Fabian societies
Join

the Fabian Society
Be the first to know
Sign up to the free Fabian Society newsletter
Find out about the latest Fabian Society research, publications and events with our regular updates
Sign

up today
Fabian

Society