Together: A vision of whole person care for a 21st century health and care service
Whole person care is a vision for a truly integrated service, not just battling disease and infirmity, but able to aspire to give all people a complete state of physical, mental and social wellbeing.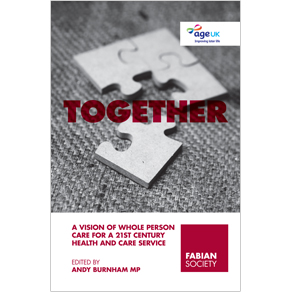 Whole person care – integrating physical, social and mental care in a preventative and person-centred system – is potentially Labour's big idea to go into the 2015 election with. The concept has already gained wide support among health professionals, policy experts, campaigners, practitioners and political advocates, who have united to welcome the approach. However, big questions remain around how to turn it from an interesting idea into a credible programme for government.
To inform the development of the whole person care agenda, Andy Burnham MP, the shadow health secretary, brings together a range of independent experts to explore the policy implications of integrated health and social care. Their essays do not represent Labour party policy, but outline the key areas that will need to be addressed in order to develop a coherent and effective 'whole person' approach to health and social care.
Joan Bakewell on the provision for older people in the health service
Mary Riddell on the challenge for Labour making whole person care a central part of their election offer in 2015
James Lloyd on the potential role of contribution in providing social care
Alastair Campbell on placing mental health at the heart of the whole person agenda
Angela Coulter on the importance of empowering patients to manage their own healthcare
Gabriel Scally on the argument for how investing in public health can deliver for patients and the public purse
Caroline Abrahams and Michelle Mitchell on the need for more joined up services to help older people
Richard Hawkes on making whole person care work for disabled people
Karen Jennings on how the workforce can be brought into the process of integrating health and social care
Sir Michael Rawlins on determining entitlements under an integrated health and social care service
Clare Gerada on the changing role of the general practitioner under whole person care
Download

now
How to purchase
Copies are available, priced £9.95, from the Fabian Society. Call 020 7227 4900, email or send a cheque payable to The Fabian Society to 61 Petty France, London, SW1H 9EU.
Fabian membership
Join the Fabian Society today and help shape the future of the left
You'll receive the quarterly Fabian Review and at least four reports or pamphlets each year sent to your door
Be a part of the debate at Fabian conferences and events and join one of our network of local Fabian societies
Join

the Fabian Society
Be the first to know
Sign up to the free Fabian Society newsletter
Find out about the latest Fabian Society research, publications and events with our regular updates
Sign

up today
Fabian

Society