Bringing It Home: Making a global deal on climate change a reality
Bold leadership and public support will be needed to win a deal on climate change.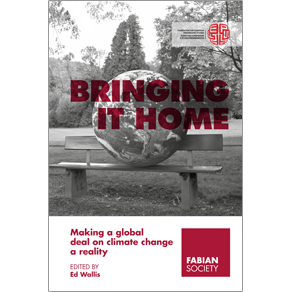 Bringing It Home
10 April 2015
In December this year, politicians, campaigners and diplomats will come together in Paris to attempt to tackle the world's greatest collective challenge: how to catalyse action on climate change.
There are reasons to be hopeful that a global deal might be done. But whether or not the latest in a series of UN negotiations can keep global temperature rises to 2ºC will ultimately be up to us. Public pressure is crucial to securing a stretching deal. Yet there is currently no sense that climate change is high on the political or public 'to-do' list.
If 2015 is going to be remembered as the year the world finally got serious about our climate threat, we will need bold and imaginative political leadership. We must not see Paris as an end point: it is a critical staging post on a longer journey, not a single event. What we need in this crucial year for the climate is to find a hopeful story about why Paris matters, for our values, for our national interest and for our daily lives; that engages us all in the task of our time.
Download

now
How to purchase
Copies are available, priced £9.95, from the Fabian Society. Call 020 7227 4900, email or send a cheque payable to The Fabian Society to 61 Petty France, London, SW1H 9EU.
Fabian membership
Join the Fabian Society today and help shape the future of the left
You'll receive the quarterly Fabian Review and at least four reports or pamphlets each year sent to your door
Be a part of the debate at Fabian conferences and events and join one of our network of local Fabian societies
Join

the Fabian Society
Be the first to know
Sign up to the free Fabian Society newsletter
Find out about the latest Fabian Society research, publications and events with our regular updates
Sign

up today
Fabian

Society